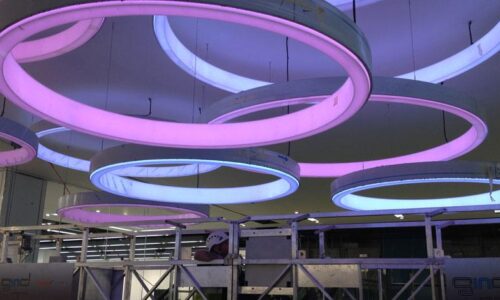 Date: 2012

Address: 18-24 Oxford Street

Client: Patton Fit Out - ISG / Primark Stores / TTG Architects
Primark, 18-24 Oxford Street, London
Integral Cradles Ltd obtained this order to provide a bespoke removable travelling gantry system on the TTG Architects' designed stunning Oxford Street flagship store for Primark, which trades over four levels from a 175,000 sq ft Gross Internal Area.
The main purpose of the provision of the gantry was to gain safe access to feature
lighting and other areas within the stairwell. Due to store layout conditions, the gantry was designed with some unique features.
This included the ability to split the gantry for ease of transport through the store to and from its storage room. Manually extendable platforms were included to ensure all areas of the stairwell can be reached.
Other design features are the removable wheels and collapsible gantry handrails, ensuring that the gantry can reach the height required to pass over the escalators.
The equipment is be used to maintain the bespoke over escalator lighting system that is the trademark of Primark's flagship UK store.