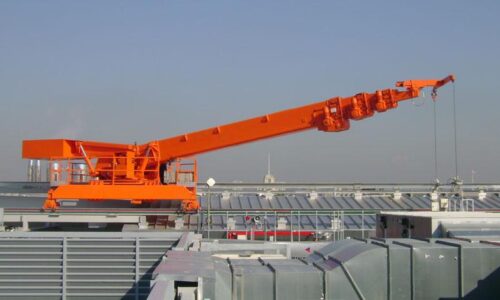 Date: 2008

Address: London

Client: MAKE Architects / BAM Construction
55 Baker Street, London
This radical renovation of a 1950s office building transforms the site into an important new urban amenity. Three glass infill's or 'masks' span the voids between existing blocks to create a new facade for the building, with the central glazed section enclosing a seven-storey atrium which is open to the public. To enable this concept to shine to its full potential, the glass panels needed to be cleaned and maintained, yet such a unique construction cannot be accessed by standard facade access equipment.
Due to Integrals' experience with unusual bespoke maintenance access equipment, they were given the responsibility of finding an access solution for the dramatic front facade of the building.
Integrals' answer to this problem was to provide two track mounted building maintenance units with an individual reach of 26m, in order to access out over the angled planes of the building. The cradle buffering on each machine is a bespoke designed and tested system to ensure that the minimum amount of pressure is applied to the exposed glass mask areas at the front of the build facade. In order to ensure that the cradle did not damage the glazed cladding in unexpected gusts of wind, the buffering pads have been extensively tested by calculation and mock ups.
The project was completed on programme, to budget and surpassed the clients expectation.