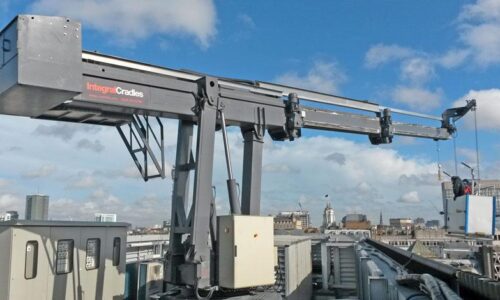 Date: 2012 - 2013

Address: 95 Wigmore Street, London

Client: Wates / ORMS Architects / Great Portland Estates
95 Wigmore Street, London
Integral Cradles Ltd provided a bespoke Building Maintenance Unit to an eight-storey, 111,400 sq ft office building with ground floor retail space at 95 Wigmore Street.
The building was designed by architects ORMS and is a new office and retail development by the Great Wigmore Partnership that was completed in 2013.
The Building Maintenance Unit has been designed with a 2-stage extending jib, complete with a glass replacement lifting winch with a capacity of 500kg. The BMU has the ability to be 'parked' away when not in use, within the dedicated roof parking zone, thus leaving the skyline clear.
The access to and egress from the roof parking zone is via an integrated powered turntable unit, which allows the BMU to change tracks.
In addition to the Building Maintenance Unit, Integral Cradles Ltd has also provided safe access to roof solar tubes via safety harness eyebolts and safety lines.