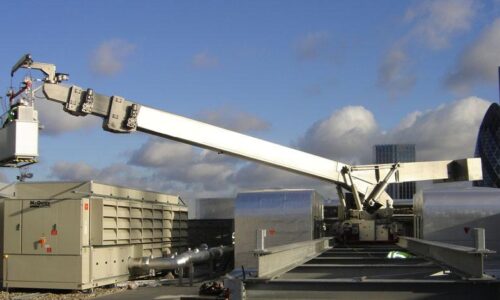 Date: 2007

Address: City, London

Client: Stanhope / Legal & General
Coleman Street
One Coleman Street is a 180,000 sq ft, ten storey office development in a prime location along Londen Wall in the City of London, and serves as the new Headquarters for financial giant, Legal & General.
Integral Cradles Ltd received the order to build a bespoke BMU to service all facades of this building. The BMU has a 28 meter 2 stage telescopic reach. The BMU also includes a powered slewing ring, and runs on 21 meters of parallel track.
The BMU has a hydraulic luffing mechanism to luff both jib arm and counterweights at the same time, enabling the machine to travel over machinery packed within the tight roof space. The cradle has a bespoke docking mechanism enabling it to safely locate on the balconies to facilitate cleaning.