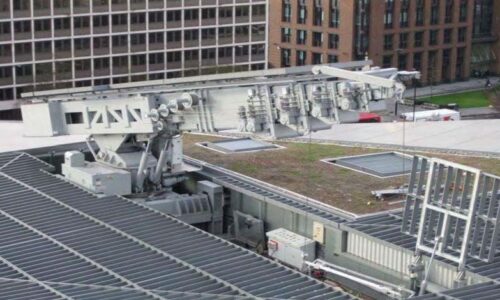 Date: 2010

Address: St Paul's / City, London

Client: Land Securities / Sidel Gibson
One New Change
Situated to the East of St Paul's Cathedral, the One New Change development represents a rare opportunity for comprehensive redevelopment close to St Paul's and for improvement to the environment and amenity in this part of London.
Land Securities Plc appointed Integral Cradles Limited to carry out the design, supply and installation of the external Facade Access System on the One New Change project.
Integral Cradles Ltd supplied the two largest Building Maintenance Units (BMU's) in the UK to serve and provide access to all external vertical elevations curved / inclined facade elevations, and all roof areas within its operating range for window cleaning and glass replacement.
The large BMU is a telescopic unit with a maximum operational outreach of 43.85m utilising a lift table to hide away when not in use. The machine serves the building by running on a parallel track system with a set of four turntables at the corners.
The second machine is a 35m reach static BMU, again hiding away on a lift table when not in use. This machine has a unique, bespoke, luffing counterweight design that has been carefully coordinated with the intricate three dimensional roof and façade.
A track trolley system is also required to provide fixings for PPE safety harnesses for personnel using a walkway running adjacent to the track; to provide emergency access to the BMU and access for routine maintenance of the track, its mountings and the adjacent roof area.
A spectacular solution provided by Integral Cradles for a spectacular location.