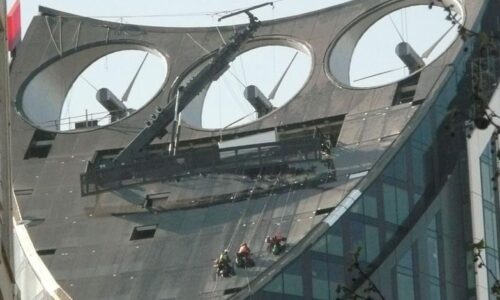 Date: 2009

Address: Elephant & Castle, London

Client: Brookfield Multiplex
Strata / Castle House
Strata, totaling 147m high over 43 floors, has created 310 homes and was the largest residential tower in London upon completion.
The order for providing a BMU was placed with Integral Cradles Limited due to their ability to solve bespoke and complex access solutions
The BMU has a small parking garage below the wind turbines from which it operates. To move the BMU in and out of the parking garage, the track has within its design a powered transfer carriage, which acts to bring the BMU to its working position on the outside twin tracks, thus enabling the BMU to be stored out of sight when idle. This innovative system combined with an electrically powered moving and tilting gate, ensures safety within the parking garage for the operatives when the BMU is stored.
The BMU itself has a maximum outreach of 19 meters, the design incorporates a 115 degrees jib head slew and a 3.8 meter wide cradle, thus enabling operatives to access the whole of the façade for maintenance/cleaning works.