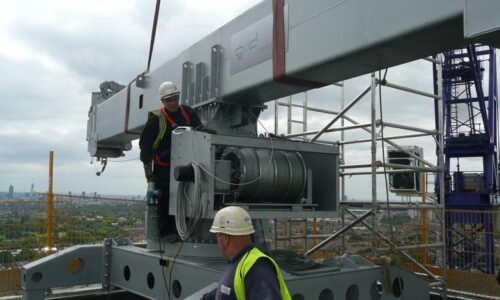 Date: 2011

Address: Hackney, London.

Client: Berkeley Homes Ltd
Woodberry Down
As part of a 20-year programme to regenerate the Woodberry Down area of Hackney, 1,980 home will be demolished and more than 5,500 new ones will be built. In addition, three new parks, a community center and library, a new Academy and extended primary school and a new children's nursery will be built.
Berkeley Homes placed the order with Integral Cradles Ltd for a single telescopic BMU to serve the 27 floor residential building.
This static BMU was centrally placed on 4 hold down units, has a telescopic 3 section reach of 21.2m and both the cradle and the main machine slew. Hoisting is at an increased 14m per minute.
The BMU continues to perform with excellent reliability.